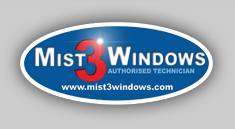 50% 0FF Mist3 Training Course
LIMITED TIME SPECIAL OFFER
50% 0FF Mist3 Training Course
Now Only £2997 (+VAT)

Dear Fellow Glazer
It's Wayne here from mist3windows and I've got a very special offer for you.
Dozens of glazers who have attended one of my discovery days have told me they are desperate to add the mist3 system to their business, but with times being so tough right now, they just can't find the funds for the investment
Maybe your just the same
• You know you will get dozens more enquiries than you do now
• You know that you will blow your competition out of the water
• You know that you will be able to get even more business when you are on site ( 60% of the time we get extra business)
• You know that you will be working on 80%-90% profit margins
• You know you will have that customer for life so you will be able to sell them even more
And you can overcome the recent 50% increase in glass prices

You Know That Adding The Mist 3 System To Your Business Will Help It Grow…
Even In These Tough Times. So Here's The Deal
Let me give you the training for just £2997 ( +VAT). You'll get exactly the same as before, there's nothing reduced except the price.
You will learn…
• How to attract customers in their droves, we'll even give you the advert template that generated 151 enquiries, in less than one week.
• How to qualify prospects on the phone, so you know the windows can actually be repaired
• How to explain the process to the prospect, giving them the confidence to book your services
• How to identify other potential failed or failing units at the same premises, giving you an opportunity of extra business at the same time.
• How to mix the solutions to ensure the repair is successful (this is very important)
You will also receive…
• A complete tool kit, worth £3245.00, with enough solution and valves to repair 100 windows. So at £50 a window that's MORE THAN enough to pay for your training
• All necessary Marketing material
• Everything you need to satisfy Heath and Safety requirements
• A complete how to manual
In fact…You Will Leave The Training Course With Everything You Need To Begin Making Money From This Business As Soon As You Get Home.
For your information the available training dates are listed here
Call me today on 0845 452 0474
Wayne Pitt
P.S. Remember this is a limited offer. When the places have gone they're gone, thats it! So call me today if you want to be sure